Call Me Mr.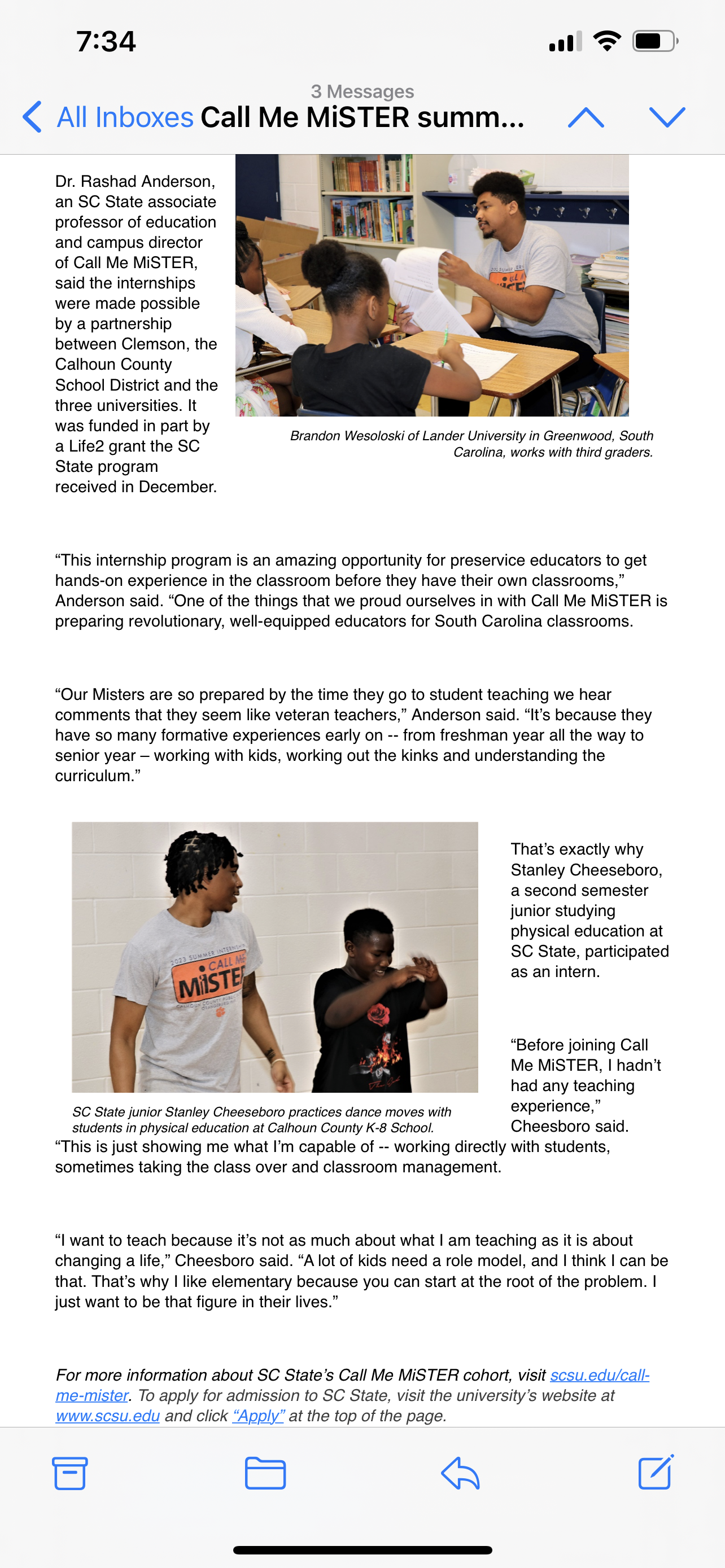 ---
Call Me MiSTER summer internship program gives future educators practical teaching experience
| | |
| --- | --- |
| | |
| Misters and their counselors came to Calhoun County Schools from Claflin, Lander and South Carolina State universities. | |
Students worked along Calhoun County educators in elementary, middle and high school classrooms.
ST. MATTHEWS, S.C. – Future educators from three universities in South Carolina gained valuable classroom experience this summer in the Call Me MiSTER program's five-week internship program.
| | |
| --- | --- |
| | |
| SC State senior Jordan Puch | |
"This is an amazing opportunity because it gives the experience to perfect our craft," said Jordan Puch, a senior majoring in elementary education at South Carolina State University. "Teaching is a muscle. The more you do it the better you become at it.
"To get all this experience before student teaching, you get a feel for how the classroom works," Puch said. "I have a relationship with my teacher that I think is one of a kind. She pours into me, and I feel like I am trying to pour just as much into her, as well."
Call Me MiSTER is a program based at Clemson University intended to recruit and prepare more Black male students for careers as role models in education through cohorts at SC State and numerous other higher learning institutions. Less than 2% of South Carolina educators are Black males, and Call Me MiSTER works to change that. The program is active at 28 institutions in South Carolina with national partnerships in 10 other states.
The initiative brought 14 interns from Claflin, Lander and SC State universities to the Calhoun County School District to work alongside experienced mentor teachers in summer classes at the elementary, middle and high school levels.
The effort not only gave the college students classroom know-how, but it also offered Calhoun County students role models – the core tenet of Call Me MiSTER's mission.
"I grew up in this district from a small rural community, and for our students to see men – young men – in this aspect, it really shows them that there is hope for them, as well," said Carolyn Snider, a National Board Certified teacher at Calhoun County K-8 School. We don't have a lot of men in education."
For Snider, who earned her bachelor's and master's degrees in elementary education at SC State, having a Mister for an intern also freshened up her teaching knowledge.
"I know learning is ongoing. It never stops," Snider said. "From my Mister – Mr. Ferguson – I am learning some different strategies and skills that he's learning in school, so things are new. The trends in education – they change, they shift – and we learn from each other, and we grow from each other professionally. We just click."
| | |
| --- | --- |
| | |
| Rising Claflin sophomore Sammy Ferguson with some of his middle school pupils. | |
Her Mister was Sammy Ferguson, a rising sophomore majoring in middle-level education at Claflin.
"I got involved in Call Me MiSTER to impact my community. I came from a district where education wasn't really valued, and I hated seeing that," Ferguson said. "Call Me MiSTER has introduced me to a world of education that I never knew about. There is so much I can access and be part of."
Working with Snider and her pupils helped confirm his desire to teach at the middle level.
"She's teaching me a lot about classroom management and how to effectively with students," Ferguson said. "It's teaching me a lot about middle school. It's preparing me in communication, learning to get to know them better, how to get to open up to me, but also to get me to open up to them.
"It basically catapulted me more into the direction of middle-level education," he said.
Puch, on the other hand, found himself in unfamiliar territory – teaching a rotation of classes at Calhoun County High School.
"I have ninth graders, and I am in elementary education, so it's outside of my comfort zone, but it's an experience I really appreciate," Puch said. "If you are well rounded with all age groups and all children no matter the grade, you will be able to teach whatever comes your way.
"I feel like I can make those connections with high schoolers and give them real-life conversation. They're not too much younger than me, so we connect and bond very well. I am all about pouring into them and getting them to a better place than they are at right now," he said.
| | |
| --- | --- |
| | |
| Orangeburg County teacher Jarod Barksdale | |
Along with their classroom mentors, the college students had the benefit of working with their older peers – Call Me MiSTER graduates already employed as teachers. They included Jarod Barksdale, a Claflin graduate, and Jamal Ferrell, an SC State graduate, who served as teachers in residence for the summer program.
Barksdale is a third-year teacher in sixth grade science at Orangeburg County's Robert E. Howard Middle School.
"I use my experiences to motivate and influence them and give them assistance in any way possible," Barksdale said of his role with the Misters in training. "Call me Mister was not only a brotherhood, but also gave me resources. In the brotherhood aspect, I was able to connect with people who had the same goal as me and wanted to motivate me and influence me toward the greater goal of getting into the classroom.
"Without Call Me MiSTER, I would not be in the position I am today," Barksdale said. "I am the man, the teacher that I am because of all the Misters who have been in my past and the Misters who are in my present. They have been a positive influence, and I am taking that and hopefully being a positive influence on the next Mister."
Ellen Wheatley, who teaches special education for grades 6-8 at Calhoun County K-8 School, is a 1987 Claflin graduate who was proud to work with Barksdale and the students from her alma mater.
"It's just good to see them in this building," Wheatley said. "The impact they've had on these students is tremendous. For them to see young Black males is powerful.
The interaction with the students made a difference in their lives. They look forward to seeing them. They know them by name. They just enjoy being with them and around them."
| | |
| --- | --- |
| | |
| Brandon Wesoloski of Lander University in Greenwood, South Carolina, works with third graders. | |
Dr. Rashad Anderson, an SC State associate professor of education and campus director of Call Me MiSTER, said the internships were made possible by a partnership between Clemson, the Calhoun County School District and the three universities. It was funded in part by a Life2 grant the SC State program received in December.
"This internship program is an amazing opportunity for preservice educators to get hands-on experience in the classroom before they have their own classrooms," Anderson said. "One of the things that we proud ourselves in with Call Me MiSTER is preparing revolutionary, well-equipped educators for South Carolina classrooms.
"Our Misters are so prepared by the time they go to student teaching we hear comments that they seem like veteran teachers," Anderson said. "It's because they have so many formative experiences early on -- from freshman year all the way to senior year – working with kids, working out the kinks and understanding the curriculum."
| | |
| --- | --- |
| | |
| SC State junior Stanley Cheeseboro practices dance moves with students in physical education at Calhoun County K-8 School. | |
That's exactly why Stanley Cheeseboro, a second semester junior studying physical education at SC State, participated as an intern.
"Before joining Call Me MiSTER, I hadn't had any teaching experience," Cheesboro said. "This is just showing me what I'm capable of -- working directly with students, sometimes taking the class over and classroom management.
"I want to teach because it's not as much about what I am teaching as it is about changing a life," Cheesboro said. "A lot of kids need a role model, and I think I can be that. That's why I like elementary because you can start at the root of the problem. I just want to be that figure in their lives."
For more information about SC State's Call Me MiSTER cohort, visit scsu.edu/call-me-mister. To apply for admission to SC State, visit the university's website at www.scsu.edu and click "Apply" at the top of the page.
Visit the Call Me MiSTER organization's page at Clemson University.