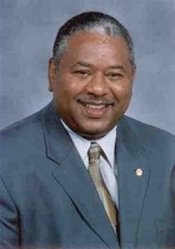 Dr. Steve Wilson
Dr. Steve Aaron Wilson of Columbia is a native of Blair, South Carolina. He is the son of Mrs. Lugenia Wilson and the late Mr. Aaron Wilson. He has been married for 45 years to his childhood sweetheart, Mrs. Teresa Hendrix Wilson. They are the proud parents of two children, Teresa and Steven (Hayley), and the proud grandparents of three granddaughters: Teresa, Chloe and Kennedy.
Dr. Wilson was educated in the public schools of Fairfield County and went on to receive a Bachelor of Science Degree in Biology from Benedict College in 1972. Upon graduation from Benedict, he was drafted into the United States Army. During his tenure in the military, he rose to the rank of Major. In 1974, he began his career in education at his high school alma mater, McCrorey-Liston High School.
In 1978, Dr. Wilson received his Masters Degree in Agriculture Education from Clemson University. His studies continued at Winthrop University, the University of South Carolina, and in 2001, he earned his Doctoral Degree in Educational Leadership from South Carolina State University. Dr. Wilson is a member of several professional organizations, including the Omega Psi Phi Fraternity. He is a lifelong member of Weeping Mary Baptist Church.
After teaching for ten years, he rose through the administrative ranks serving several school districts. He advanced to serve as Principal of Newberry High School (1992) and Principal of Keenan High School (1998). He accepted the assignment as Executive Director for High Schools (2008) in Richland School District One. In 2010, Dr. Wilson was named Superintendent of Calhoun County Schools.
Dr. Wilson was an effective bridge-builder at Newberry High School, after being named its first African-American Principal. During his tenure as Principal of Keenan, the school was named "Palmetto's Finest High School" (2004). Some of his other honors included "Secondary Principal of the Year" (2003) for the State of South Carolina, recognition by the State Legislature for contributions to education, receiving the "Order of the Silver Crescent" awarded by the Governor (2003) and "Isaiah Reid Distinguished Leadership Award" (2004). Dr. Wilson recently concluded his tenure as "State Superintendent of the Year" (2017).
Dr. Wilson feels that high expectations, strong collaboration and effective communication with all stakeholders are paramount for continuous improvement and transforming schools and districts. We must maintain an attitude of "Keeping Children First".