Office of Teaching and Learning
The educators of Calhoun County Public Schools share a common concern and commitment to the welfare of our children. Therefore, the purpose of Calhoun County Public Schools' district is "Teaching and Learning." Curriculum (what is taught) and instruction (how it is taught) are the vital aspects of the educational program. We want teachers and staff in the district to use the most effective methods, tools, and materials in their work toward individual student achievement. We are vested in providing our students with the best education we can offer through a strong PreK-12 curriculum pacing with purposeful and differentiated instructional practices a strong assessment format to gage student readiness. Our curriculum, developed to align with the South Carolina College and Career Ready Standards and National Early Learning Standards, provides students with daily learning targets and course/subject/grade level essential learning outcomes to ensure that students are learning the necessary content and developing the necessary skills to meet grade level benchmarks on their road towards academic success. Our instructional practices are designed to adjust for the needs of all learners through data-driven differentiation, technology integration, and Response to Intervention (RtI). Throughout the learning process, we use multiple types of assessments to measure students; growth and progress. We share these assessments through different avenues including standardized and screening test results reports, report cards, and formal/informal conferences with students and parents.
The Office of Teaching and Learning and the Office of Accountability and Administration work closely to ensure that the relationship is forged between the student, teacher, parents and stakeholders to maximize student learning.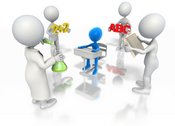 "Children are not things to be molded, but people to be unfolded!"
Empower. Compete. Succeed.