Dr. Ferlondo J. Tullock is a native of Charleston, SC, and the son of Mildred S. Tullock and the late Ferdinand L. Tullock. He attended the public schools of Charleston County. Upon graduating from Garret High School, he began his studies at, then, Claflin College to study business. It was while at Claflin that Dr. Tullock realized his calling was to assist students in maximizing their educational potential. That belief has stayed with him throughout his career in education. He holds a Bachelor of Science degree in Elementary Education from Claflin College, a Master of Education degree in School Administration and Supervision from The Citadel, and an Education Specialist and Educational Doctorate degree in Administration and Supervision from South Carolina State University.
Dr. Tullock has worked in public education for many years, he has served as a middle school Language Arts and Reading teacher, an assistant principal, an Elementary Principal, a Director of Curriculum, a Director of Special Education and Student Services, and Deputy Superintendent. He has served in Charleston County, Laurens District 55, Saluda County, and now Calhoun County School Districts. He has held educational supervisory roles for more than 25 years of his career.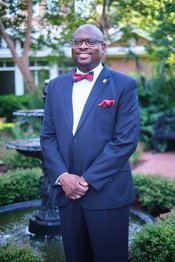 Dr. Tullock is a member of the South Carolina Association of School Administrators Student Services and Special Education Roundtables. He is also a member of the Association for Supervision and Curriculum Development. Dr. Tullock is a proud member of Alpha Phi Alpha Fraternity Inc. Delta Zeta Lambda Chapter, Orangeburg, SC. Civically, he serves as a Board member and Secretary of the Calhoun County Department of Disabilities and Special Needs, a member of the Sandy Run Ruritans, and is the past Chairman of the Political Action Committee of the Calhoun County Branch of the National Association for the Advancement of Colored People.
Dr. Tullock is married to Phermella Tullock of Orangeburg, SC, a teacher with Calhoun County Public Schools. Dr. Tullock believes that every student can learn. We, educators, must find that vehicle to drive our students to their potential.
Superintendent's Focus Goals/Seven Habits for an Effective Calhoun County School District
The following are not only my focus goals but are characteristics and expectations that should become habits for all stakeholders of Calhoun County Schools. Our primary focus is "Teaching and Learning". These seven habits, characteristics, and expectations, will make for continuous improvement and an effective school district.
· Intense Focus on Student Achievement: The district must continue its focus on student achievement. This focus is centered on "Teaching and Learning". We are quite pleased with the efforts of our teachers, students, and staff. Our students must be thoroughly prepared for their chosen pathways after high school. The district's priority in this area must continue to be at the forefront. Teaching and learning are our core business.
· Students Proficient in Literacy Skills: All students must become proficient in their literacy skills (speaking, reading, writing, and listening). Students who demonstrate proficiency in these skills during their early grades will achieve success as they matriculate through the grades. With this focus, we expect students to read on grade level at the conclusion of their first-grade year. Success here can have a tremendous impact on "Teaching and Learning".
· High-Performing and Dedicated Teams: A culture of high expectations must be permeated throughout the organization. Everyone must be dedicated to performing at high levels in support of "Teaching and Learning". This expectation begins with the Superintendent and is reinforced through the cabinet to all district employees. We must continue to recruit and retain highly qualified and talented personnel to maintain this focus.
· Efficient and Effective Operation: This focus centers on quality. It is important that everyone in the organization provide high-quality work that supports the "Teaching and Learning" process. Quality promotes efficiency and effectiveness. This focus must also begin with the Superintendent and be reinforced through the cabinet to all district employees. This focus must be internalized throughout the district.
· Safe Learning Environment: The safety of students and employees is first and foremost. This is an expectation from all stakeholders. We must ensure that the appropriate policies and procedures are in place to protect the welfare of all who work and learn in our district. The immediate reporting of any unsafe act is the expectation for anyone who witnesses or suspects violations of safety. This focus is critical to "Teaching and Learning".
· Sustained Community Engagement: This focus is critical in that our school district must have the involvement, support, and engagement of community stakeholders to be successful. It is imperative that we reach out to keep the community involved and value their input as equal partners in our "Teaching and Learning Focus".
· Professionalism and Customer Service: This focus centers on relationships that we build, professionals, with our stakeholders. We must internalize that sense of family as an organization to aid "Teaching and Learning".